Whether you're 5 or 50, maybe you've got some gear, and maybe you've read some things online and watched a few of How to Hockey's YouTube video's – here's a quick 10 point tips and a in-depth Guide to help you, or your child, to get started at playing ice hockey
Equipment – What you should and shouldn't do
As with any new sport or interest, don't buy gear. Wait, wait until you fall in love with the game then buy used gear until you know what you like, and what you want. Many people have gear sitting in their garages from the initial buzz and excitement, but never continue – you don't still use your treadmill as a place for your washing do you?
When choosing an ice hockey stick, it's important to take your height into consideration. If a stick is too long or too short, then this will put unnecessary stress on your body. A specialist store should be able to determine what the best stick is for you or you can read some of our articles to find out which curve and flex may be best for you.
As you get kitted out in your hockey gear, be prepared for the fact that it may initially feel uncomfortable or interfere with your mobility. If that's the case, give yourself time to see if you become used to it — and if you don't eventually become comfortable with your gear, then it will be easy enough to look for alternatives. Always make sure you never play without protective kit, though, for obvious safety reasons.
When buying skates, make sure they are a snug fit but not so tight that they cramp your toes. They must also provide good ankle support. Skate sizes are usually a half to one whole size smaller than players' regular shoe sizes.
Use the 'criss-cross' method when lacing up your skates, as this will provide even comfort and good support. The bottom three eyelets should be semi-loose to allow blood circulation to your toes, and then the eyelets should get progressively tighter the further towards the ankle you go.
Technique – Become a better player
Work on some of your basic skills by playing street hockey, preferably on inline skates. This way you can work on your stick handling skills as well as your street skating — which mimics some of the movements required to skate on ice.
Make sure you watch the professionals at play, as this way you will gain a better understanding of positional play and tactics. Closely watch the player who plays in your chosen position if you already have one.
It's important to keep your stick on the ice at all times, except when you're trying to deflect a puck. If you're skating with your stick in the air then you won't be ready to receive a pass or shoot. It's also safer when players keep their sticks on the ice.
Becoming a better player does not have to just involve practice on the ice. By improving your general strength, speed, balance, coordination, agility and explosiveness — for example by working out in the gym, doing running training or playing another sport — you will become a better ice hockey player.
Watch as many youtube videos as you can, get a feel for the game
Playing hockey means knowing the game

Before stepping onto the ice for the first time, get to know the basics of the game. It may seem completely overwhelming at first, but the game itself is pretty simple.
Do I need skating and hockey lessons?

Yes. It's simply that. Whether you're 5 (and that's amazing that you're reading this!), the parent of that 5 year old, or 50. You need lessons. Lessons get you started with the basics and help with good habits. Once you've learnt some of the basics by being on the ice, knowing the ice and balance, you can then start with some of the 101 basic hockey courses. Just remember, EVERYONE had to learn, from Crosby to Gretzky – no-one was born with skates on (ouch!).
Know the costs of playing ice hockey

The cost of playing hockey is one of the big issues in the sport, making it difficult for lower-income players to participate. It takes several hundred dollars to get started, once you account for the purchase of equipment, registration with an ice hockey program in your community, and incidental costs. Once you're interested in the game, then there's the cost of better protection, better sticks – it's so easy to have your own hockey store in your garage after 10 years of playing the game!
Many leagues and associations offer programs to help curtail costs, such as equipment rental, second-hand equipment, and starter kits at a reduced price. Contact your local association or inquire with other players/parents.
Registration fees vary widely depending on where you live. Expect to pay at least $300-$700 per player per team per season.
Playing Hockey Is a Commitment

Playing hockey means busy weekends, early mornings, long drives, and cold rinks, particularly if you are registering a child to play the game. The more time you or your child is on the ice, the better the game. You should try our HockeyParents Circle as a great support group for Hockey Parents!
Remember also that being a member of a team is a commitment. Reliability and punctuality are essential. A typical minor hockey program will offer three to five hours per week, divided between games and practices. If you register your child, ask what the schedule will be like and make sure it's realistic for your lifestyle.
A useful rule of thumb: for every hour of ice time, allow at least another hour for preparation, travel, etc. Adjust that number according to how far you live from the rink.
Know the Alternatives to Organized Ice Hockey

Inline hockey (also called roller hockey) is played using inline skates on pavement or an arena floor, many local arenas or rec centres convert one of their rinks to a roller hockey rink during the summer.
Sledge hockey is one of the most popular sports at the Paralympic Games. Players sit in the sledge – a metal frame that rides on skate blades – and use sticks to pass and shoot the puck.
Ball hockey (also known as street hockey, road hockey) has a long and rich history, played in parking lots, streets, gyms, and anywhere else players gather with hockey sticks and a ball – it's one of the best places to work on your close game.
If organized ice hockey doesn't appeal, many rinks offer shinny hockey (also known as pick-up hockey) for a few dollars per visit. Shinny is a casual and usually non-competitive version of the game, with no set teams, no rough play, and often no scorekeeping.
If you live in a climate of freezing winters, you might find a pond hockey game nearby – why do you think Canada and Sweden / Finland have a such a great hockey history!
Find Hockey in Your Community

If you can't find games via word-of-mouth or online at your local city website? Look for your city on HockeyCircles and put a shout out for a drop-in game!
Find Hockey Equipment

Hockey stick, hockey skates protective equipment are the essentials of the game.
Make sure the hockey stick is the correct height. With the stick held vertical and the tip of the blade touching the floor, the butt-end should come up to about eye level of a player standing in bare feet, and up to the chin of a player in skates.
Ice hockey requires a safety-certified helmet. The helmet is one item that should probably be purchased new. A properly fitting helmet, certified by safety testing and fitted prior to purchase, could save your life.
Minor hockey programs also require a face mask attached to the helmet. If you're an adult beginner, the mask might not be required. But it's a very smart idea to wear one, (that's from personal experience!)
Other equipment needed for ice hockey: mouth guard, shoulder pads, elbow pads, jock strap (for boys) or jill strap (for girls), shin pads, hockey pants, hockey socks, jersey, and a hockey bag to carry it all.
Fit is important. If you're purchasing hockey equipment online, try to find the same make and model at a local store so you can be certain of which size to order.
Hockey players also need a variety of incidental items, such as stick tape, shin pad tape, t-shirts, socks, and underwear, shower supplies, etc – local sports stores nearly always carry these essentials.
The first priority is safety

It's not a question of if, but when will you or your child get hurt playing. As you start to play more and more hockey, you're going faster and faster on slippery ice and razor sharp skates hitting a puck at high speed all with other players doing the same. Some hockey injuries become great stories, some will make you wear a cage, some will stop you from playing the game permanently and, we hate to say this, but some people have died playing the game. However, statistically, it's more dangerous driving to the rink, than playing the game, so it needs to be kept in perspective.
Making sure your equipment fits properly should be a priority, ill-fitting equipment can distract you, or cause you to trip-over or injure yourself more. Don't cut a few corners to save a bit of money.
Many minor hockey programs forbid body checking until kids reach a certain age. If you're checking out a program for a young boy or girl, ask what the policy is on body checking, and make sure you're comfortable with it.
Good hockey coaches also teach safe hockey, discouraging dangerous offenses like checking from behind and hits to the head.
Respect the Game and Everyone at the Rink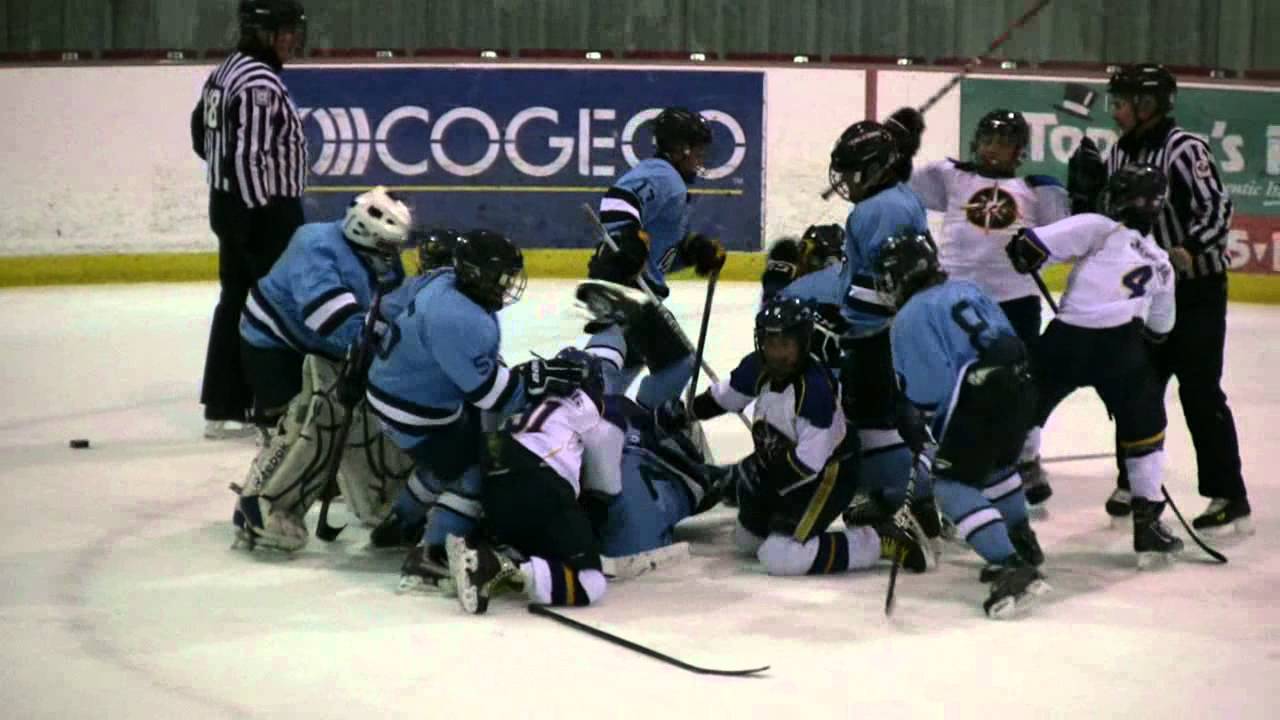 A good hockey player shows respect for officials, coaches, and opponents, learns to accept frustration and defeat, and is gracious in victory. Teamwork, communication, support, and respect are just as important to playing hockey as skates and pucks.
If you're the parent of a hockey player, encourage all of the above, and practice what you preach. When you're starting out or playing in rec leagues, there's no NHL scouts watching you or your kid, you're not going to have commentators lauding your check from behind. Play like you would like to be played against, and parents, show your kid how to be a responsible parent with a love of the game and knowledge that sometimes, things don't always go your way.