Jacques Plante's is the one who always gets credit for the goalie mask. There is even a charming Heritage Minute in which Mr. Plante, having been badly cut by a slap shot, tells his coach he won't go back out onto the ice without the strange-looking mask he'd been wearing in practices.
Mr. Plante's insistence that he be allowed to wear it – despite the protestations of Montreal Canadiens coach Toe Blake – not only changed goaltending, it changed the game of hockey.
To the modern fan, they bear a close resemblance to Dr. Hannibal Lecter's mask in "Silence of the Lambs," which happens to be the creation of a long-time fiberglass goalie mask maker named Ed Cubberly. He claims he had the whole thing designed it 10 minutes.
Gerry Cheevers mask. He drew stitches wherever he got hit with the puck. pic.twitter.com/0fBvq6tVAR

— Nicolas Falacci (@NickFalacci) May 15, 2017
As "scary" as Cheevers' mask is, it's much more terrifying when you realize all those stitches could represent real injuries.

Actually, the first real painted goalie mask was a Halloween prank.
Flyers' Doug Favell, in 1971, happened to be the starting goalie on Halloween. He casually mentioned, during the morning skate, to team trainer Frank Lewis, "Wouldn't it be fun to have an orange mask to go with the orange jersey on Halloween? Could look like a great big pumpkin."

After that, once goalies discovered airbrushing and decorating masks was a thing they could do, there was nothing to stop them going crazy. That's how Gary Simmons, whose nickname was "Cobra," decided on his new mask. Greg Harrison, the artist, based the full-sized mask design on a Hot Wheels cobra, but added a rattlesnake tail by mistake, something Simmons never let him forget.
The mask became slightly less creepy after a crown was added to the snake's head during Simmons' time with the Kings, but only slightly.

There were two skull masks, worn by Gary Bromley and Warren Skorodenski. Bromley had always been skinny, and so for a man nicknamed "Bones," it made sense for a bone-themed mask. Even the back had his nickname spelled out in bone-shaped letters.
Although there's no official explanation for Skorodenski's X-ray skull of a mask, odds are it was for similar reasoning. Skorodenki was 5-8 and 165 pounds.

Can't believe nobody mentioned Warren Skorodenski. Best. Mask. EVER. pic.twitter.com/nkiDMmCne9

— Jeff Papas (@UMDPXP) September 7, 2017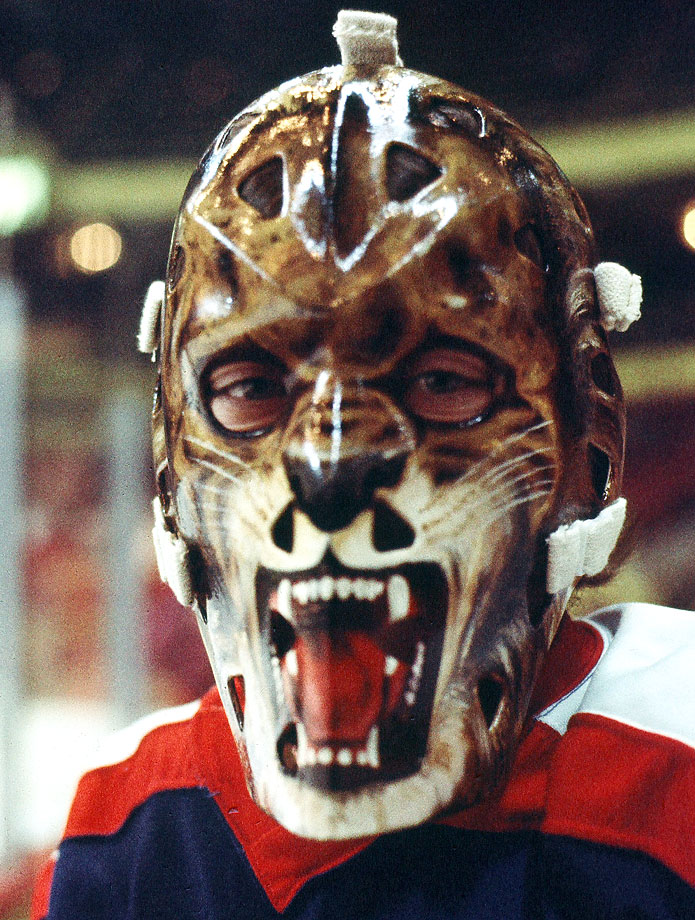 Gilles Grattons mask was the first mask to not actually look like a mask, but rather like a roaring tiger's head. Gratton, who played 41 games in the mask in 1977, was said to have even growled at opponents.
Those early days provided the basic resources for movies such as Friday the 13th and Jason's mask – an absolute classic

From the classics, we move into more modern hockey goalie mask designs, with modern materials and airbrushing – providing a blank canvas for goalie expression.






















---

Thank you to
/u/penguinwhopper who correctly attributed Colorado Avalanche's Goalie Mask to Reto Berra
/u/Syek26 who recommended Scott Clemmensen's Carnage Mask